Wednesday's are all about connecting and sharing around here.  Which is one of the reasons I started "How To Wednesday".  The blogging community is a great way to meet new people and connect with like minded individuals.
I've stumbled upon a great weekly meme called "Welcome Wednesday" hosted by Take it From Me .  The whole point of this meme is to simply connect.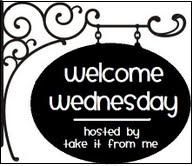 If you are looking to increase your followers and meet new people join in on the fun it's simple.
Five simple steps.
1. Follow the hosts via Google Friend Connect, Google+, LinkyFollowers, Facebook or Twitter, as well as the Spotlighted Blog of the Week!
2. Link up your blog name and URL with the Linky. (You only need to add your info once for it will be seen on all the blog hops)
3. Grab the Welcome Wednesday button and include it in a post about the event on your blog.
4. Go to as many blogs on the MckLinky as you want and Follow them. Be sure to tell them you are from Welcome Wednesday!
5. Be sure to Follow back any followers you have gained from our Welcome Wednesday event!
Leave a comment for me when you link up here so I can follow you back!